New Large Print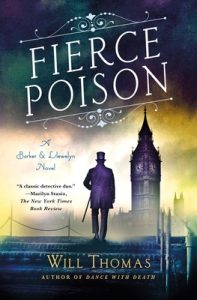 His work as a private enquiry agent has put Cyrus Barker in just about every life-threatening situation a person can think of. He's been the target of assassins, bombers nearly sent him to Kingdom Come and even his poor dog has come under fire. But never has he had a client keel over in his office. Roland Fitzhugh was meeting with Barker and his partner Thomas Llewelyn when he expires from a raspberry tart dosed with cyanide. In response, former Prime Minister William Gladstone tasks Barker and Llewelyn to find the killer, dubbed the Mad Pie Man by the press. They make little headway on the case before Barker finds his home and office lined with several lethal traps. Who is the Mad Pie Man? Is there method to the madman's madness? Barker and Llewelyn better unravel the clues fast before they become the killer's next victims.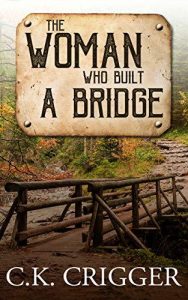 The Woman Who Built a Bridge by C.K. Crigger
Rancher Shay Billings was overjoyed to find a short cut into town. Someone has built a bridge over the river, stripping down his travel time greatly. But Shay has enemies and while crossing the bridge one day he is attacked and left for dead. He is found by January Schutt, a mysterious young woman who lives alone in a rundown barn, her only friends the animals she tends. But helping Shay puts January's life in danger. The man is one of many going against a land and water-hungry cattleman named Marvin Hammel. Using threats and brutality Hammel is compelling ranchers to sell out. The question now is did she, by teaming up with Shay, select the winning side?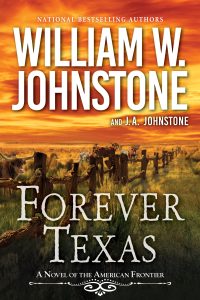 Forever Texas by William W. Johnstone and J.A. Johnstone
Regis Royle made it out of the Mexican War alive and with desire for a new start. Regis heads out to Texas and with his younger brother Shepley, business partner Cormac Delany, and his longtime friend Jarvis "Bone" McGraw, finds the perfect spot to begin anew. There's land in south Texas: 18,000 acres of rolling prairie brimming with wild mustangs, cattle, and promise. And yet Regis isn't the only one eyeing this bountiful land. Battling him are Apache warriors, outlaws and a Mexican heiress. Trouble is coming at Regis and his compatriots from all sides, but the group has made a vow to create a ranch that rivals all others. To make that dream happen will require bloodshed, but the men are all in, no matter the cost.
New Fiction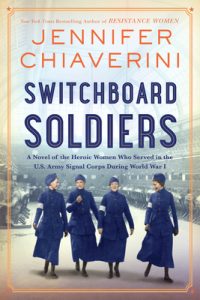 Switchboard Soldiers by Jennifer Chiaverini
World War I is thundering across Europe and in 1917 America enters the war. One problem arises almost immediately; the inability of generals to communicate with frontline troops. Needed are telephone operators who are not only discrete, but can connect calls quickly, are fluent in French and English and are able to stay calm as bullets fly overhead. In 1917, nearly all telephone operators were women, however, females were not permitted to enlist in the armed services. The U.S. Army Signal Corps ignores this directive and sends out a call for operators. Responding are Grace Banker of New Jersey, a switchboard instructor with AT&T; Marie Miossec, a native of France; and Valerie DeSmedt, a 20-year-old Belgian immigrant working for Pacific Telephone. Able to connect a call in 10 seconds, they are far faster than their male counterparts. And thanks to their bravery and hard work, helped secure an Allied victory.